Prague Castle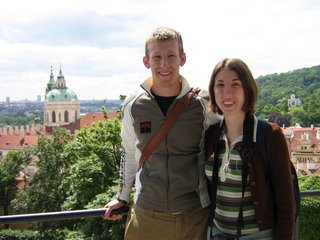 Yesterday, we visited the magnificent Prague Castle. We wandered around the grounds for a while before grabbing a spot to watch the changing of the guard at noon. The changing of the guard happens every hour on the hour, but the longest and most impressive display happens at noon, when banners are exchanged while a brass band plays a fanfare from the windows that overlook the courtyard.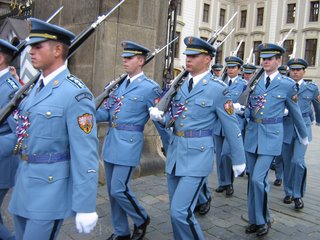 Next, we went inside the Old Royal Palace, which dates from 1135. When we entered, we stepped into Vladislav Hall (shown below), a cavernous room that once was used for banquets, councils and even indoor jousting tournaments.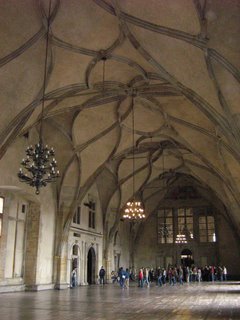 The palace also contains the room where the infamous Defenestrations of Prague occured. (See the previous post
"Keeping Our Excitement in Czech"
for more information.) Jake tried to create a third defenestration by throwing Andrea out the window, but he's really no match for her.
After taking a break for lunch, we walked down the castle's Golden Lane, a cobblestone alley lined with small, colorful cottages created in the 16th century for the castle's sharpshooters. The doorways to the cottages are about five and a half feet tall. The lane today is little more than a tourist trap though.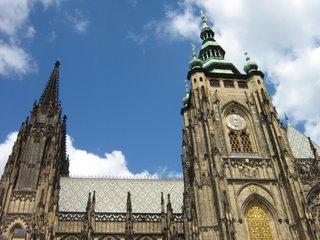 Next, we visited the gothic St. Vitus Cathedral (shown in the above pictures), probably the largest church we've ever seen. Its monstrous proportions will make it stand out among the dozens of churches we've seen. The sanctuary contains amazing stained-glass windows, including the one designed by Art Nouveau artist Alphons Mucha shown below.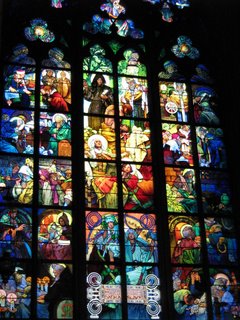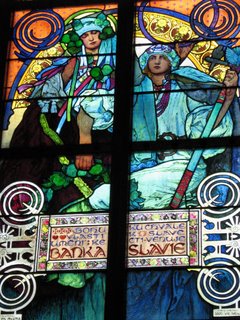 We then climbed the cathedral's 285-step staircase to view Prague from the tower. The pictures below were taken from the tower. As is usual in Prague, the views were spectacular. We feel like we've taken as many pictures in our two days in Prague as we took during the two weeks we spent in Hungary and Poland.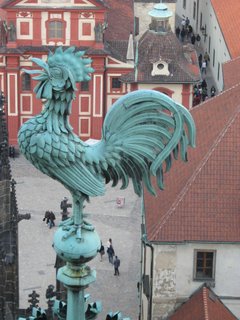 We finished off the day with a leisurely stroll through the Royal Gardens.

So far, Prague is in close contention with Krakow as our favorite city we've visited. We're taking bets as to which will win.